3 Technologies You Need to Reduce Costs at Your Restaurants
Make the technology investment and save money in your restaurant! Read here to find out three technologies you need to save your restaurant money.
---
Technologies To Reduce Restaurant Costs
One of the most effective ways to reduce costs in your restaurants is to find restaurant management tools to help you save time and money.
Out of the many technologies you can invest in (and there are thousands), we've rounded up three technologies you need to reduce costs at your restaurants - for labor management, invoice processing, and equipment repair and maintenance.
Investing in these technologies will ensure you keep moving forward efficiently, no matter what hurdle comes your way.
Taking Repairs Off Your Plate
86 Repairs was founded on an idea; what if we could save restaurant operators time and money by better managing the equipment repair and maintenance process?
Without a managed service to handle restaurant equipment repairs, owners can run up large bills and countless lost hours trying to find a provider to get the job done how and when it should.
Did you know that, on average, it takes seven to nine touch points to render a service incident solved?
The cost of mismanaging R&M is high.
To date, we have saved our customers $1,142,93 in hard costs savings and an estimated 19,206 hours of R&M management, all through a revolutionary one-step process.
While working with customers, we've seen firsthand the value of partnering with technology-based solutions to optimize restaurant operations.
Here are the top 3 technologies you can invest in to reduce costs at your restaurants:
1. 7shifts for Labor Management
In 2019, high labor costs were cited as the biggest challenge faced by 28% of restaurateurs.
There's a reason 300,000 restaurant operators globally trust 7shifts with all their labor management needs—their overwhelming amount of five-star reviews speaks volumes.
Within each sector of labor management operations, processes can be ultra time-consuming and costly; think creating employee schedules in Excel spreadsheets, outsourcing payroll to one party and compliance to another, and lacking a reliable way for the entire team to communicate with one another for announcements or new policies.
There's also the stress of local labor laws, which seem to be changing all the time. Not to mention, there needs to be a better way to celebrate and retain high-performing employees.
7shifts saw the immense need to centralize all parts of the labor-management umbrella. With just one platform, customers can optimize:
Employee scheduling: Build full employee schedules for weeks to months in seconds
Compliance and payroll: Remain compliant with labor laws and employee hour-tracking, with a reminder-based system
Team communications: Send team announcements with ease from one integrated platform
Managerial log books: Keep track of managers' reports, all in one place
Integrations: Get real-time data from syncing POS and payroll systems
In addition to these features, 7shifts provides customers with analytics and reporting to ensure they're optimizing their businesses.
With their scheduling and communications tools, 7shifts ensures their customers' employees are all on the same page, have one centralized place to communicate, and that restaurateurs can manage scheduling, compliance, and logbooks in the same secure place.
Customers save costs by integrating their POS and payroll systems in 7shifts, which works with existing tools, allowing them to meet their labor targets and see real-time data from the platform. Additionally, with the employee engagement feature, customers can identify high and low performers to increase retention and limit turnover.
When employee scheduling used to take hours, now, in a few clicks, you can see exactly who is scheduled when and align everyone's shifts. Gone are the days of paper files and silos for everything labor management. Thanks to 7shifts, you can handle all labor management needs in one convenient, user-friendly system and save costs to boot.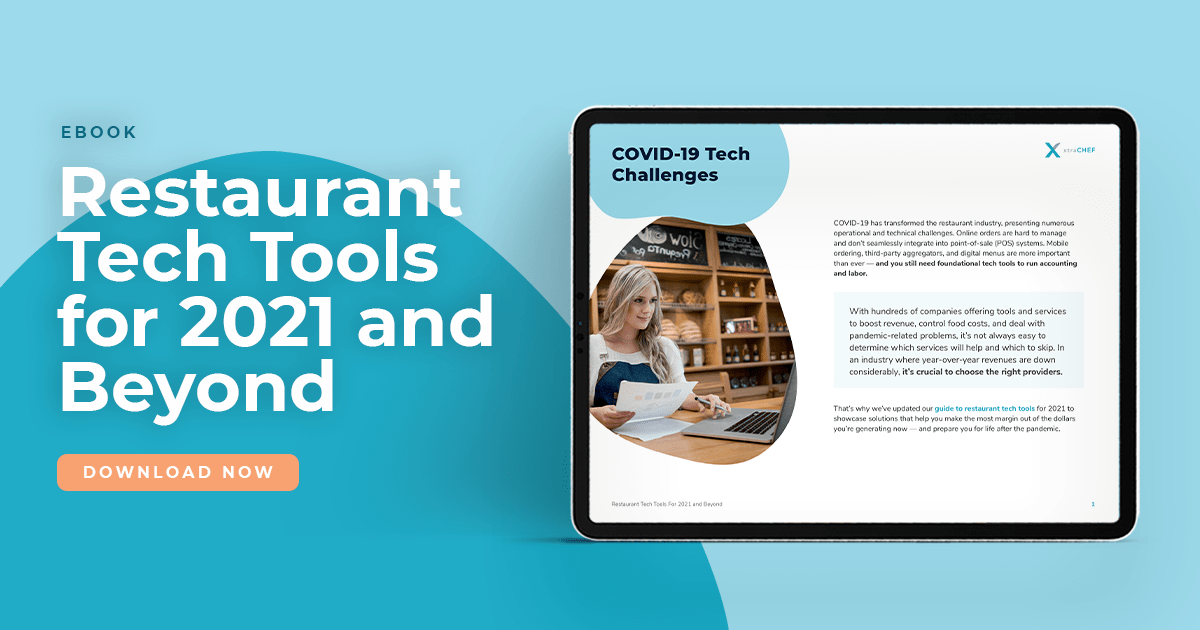 2. xtraCHEF for Invoice Processing
Restaurant financing is another space that costs restaurants time and money.
xtraCHEF understands restaurateurs' pain points well; so well, that they've developed a system beloved by thousands of restaurants spanning all categories.
xtraCHEF's mission is to both minimize expenses and maximize margins, so you can place your focus elsewhere.
Accounts payable may be among the most difficult parts of running a restaurant. Whether it's keeping all your invoices in one place, managing payments, or just plain staying organized, accounts payable can take a ton of time you could be placing in other areas of the restaurant.
The future is digital. It's no longer wise to keep invoices stored somewhere in the back of house, and it's also key to always stay aware of your line-item budget when paying out invoices, too.
While the platform is robust, the feature xtraCHEF is celebrated for is accounts payable automation, recognized throughout the industry as reliable and incredibly accurate. With AP automation, machine learning and trained operators meet to handle all paper invoicing and data entry, all while keeping you on deadline and on budget.
xtraCHEF's AP automation features include:
Cloud-based document storage: Access invoice data on the go
Automated line-item GL coding: Get GL coding at the line-item level
Invoice approval: Manage the payment side of client partnerships easily, ensuring all parties are aware of deadlines and processes
Vendor statement reconciliation: Reconcile any vendor statements against your budget
Everything from your line-item is seamlessly recorded in xtraCHEF's smart system, including batch updates of paper invoices, bills, receipts, printable data, and EDI exchange. All you have to do is take a photo, scan, or email your documentation. Then, the optical character recognition (OCR) feature digitizes everything, making all your data accessible and searchable by a number of factors.
xtraCHEF also integrates with popular third-party systems, so you can keep using the tools you're familiar with as you manage invoice processing. Plus, you can take care of invoicing anywhere, not just at the restaurant.
xtraCHEF saves restaurants costs in the form of time; invoicing takes little to no time now, compared to the hours it used to take before xtraCHEF. Additionally, there are no longer any payment discrepancies. Now, invoices and purchase orders will be linked in the system.
3. 86 Repairs for Equipment Repair and Maintenance
Nothing is worse than an unexpected maintenance issue, one you didn't plan for and definitely didn't budget for.
If you operate a FSR, our data states that a critical piece of equipment will go down 2.4 times each month, per location, while if you operate a QSR, that number is 1.5 times each month, per location.
Restaurant repairs can be costly, with average yearly spend for QSRs being $9,360, with $520 spent per incident, and average yearly spend for FSRs clocking in at $13,161, with $457 spent per incident.
Keep in mind this is only accounting for critical equipment, so this figure doesn't include day-to-day maintenance fees or more minor breakdowns.
As mentioned early on in this deep-dive, it takes between seven to nine communication touch points between team members and service providers to fully resolve a service issue.
Restaurateurs also run into the issue of time. It takes 1.5 days on average for a service provider to get to the restaurant, and then three days for any new parts to be ordered, delivered, and replaced.
Taking this into account, the risks are staggering for restaurateurs who don't make equipment maintenance and repairs a priority. Enter 86 Repairs.
We're here to help take repairs off your plate. With end-to-end repair management, we fully handle the process for you, lowering costs across your restaurants.
We view ourselves as an extension of your team, available around-the-clock, 365 days of the year.
We manage all categories that need maintenance:
Cooking equipment
Refrigeration
Plumbing
HVAC
Fire suppression
Electrical
Cleaning and sanitation
Hood cleaning
Handy work
Grease trap maintenance
Landscaping
First, we take a digital inventory of all your equipment across your restaurant locations. We also set up a list of preferred vendors based on your preferences and connect you with our vetted network of service providers.
Then, when a maintenance issue strikes, we're only one text or phone call away. We manage the entire incident, from start to finish, working through warranty and troubleshooting and in the event of required maintenance, scheduling and communicating with a service provider.
Additionally, we help our customers develop preventative maintenance plans, stopping any maintenance issue before it even starts.
These customized PM plans help to reduce downtime and, ultimately, lower costs. We also keep you from paying for unnecessary service trips, help review invoices for service incidents, and keep tabs on your equipment warranties.
And, we develop insights from tracking all of our customers' R&M data, helping you see where you can save even more.
In today's digital age where processes are constantly evolving, it's not enough to follow old ways because that's how they've always been done.
Chances are, there are some old ways that just aren't working anymore.
By choosing to work with a trusted technology partner, you'll ensure your restaurant saves costs along with precious employee time, transforming operations and putting you in a better spot for the future.