Hospitality of The Future
The post-pandemic restaurant industry is filled with technology, data, and automation. 86 Repairs is one of many services that help operators keep up with industry innovation and meet customer standards of convenience.
---
Restaurant operators have survived one of the most challenging years the industry has faced – more than 110,000 restaurants closed temporarily or forever in 2020, according to the National Restaurant Association.
In order to adapt, many restaurants redefined their missions, menus, and more to accommodate the COVID times and meet customers where they were. Now, beyond catching up and resuming some regularity, restaurateurs are faced with short staff and strained budgets.
Adaptation and accommodation were key to surviving the pandemic. To achieve projected growth in 2021, restaurant teams will need to remain on-trend to keep up.

Here are the key trends we anticipate will remain and accelerate as a result of the pandemic:
Investment in FoH and BoH technology
Limited menus and smaller footprints
Creativity with kitchen inventory, hardware, and infrastructure
Today's restaurant equipment is more technologically sophisticated than ever before. Step into any QSR location and you'll see innovative tools that became even more popular throughout the pandemic – point-of-sale touchscreens, self-order kiosks, contactless payment, and more.
As customers come back tenfold, craving socialization and content with spending money, operators must adopt automation technology in order to gear up for large crowds. According to Crunchbase, US tech startups offering restaurant automation technology – "from table-bussing robots to order-directing software" – have raised close to $600 million total since 2018.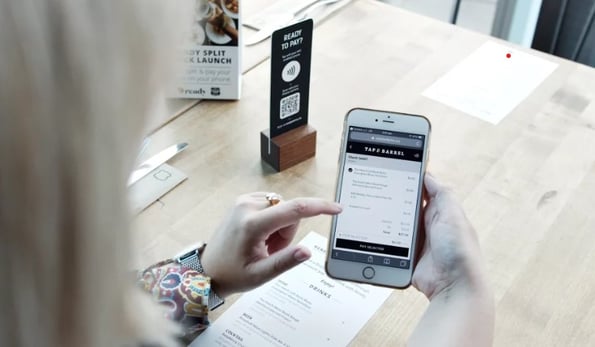 From online menus to contactless payment, technology intended to minimize customer touchpoints now also reduces staff involvement.
Given the shortage of labor the industry faces, any tool that can simplify, speed up, and streamline business processes, operations teams should invest in. Taking additional labor off of a team member's plate can save time and energy for them to show up and help out elsewhere.
As for menu items, supply chain strains limit ingredient availability. One New York restaurateur notes that he's only able to get 60% of his chicken wing supply, compared to pre-pandemic. Slim-pickings results in slimmer menus and restaurants focusing on serving high-margin specialty items. This may mean that the burger joint you frequent no longer offers salads, garnishes, and plating frills are omitted, or McDonald's halts all-day breakfast.
On the bright side, smaller menus are easier to manage, allowing operators to focus on efficiency and profitability. Albeit daunting upfront, revamping their business model may be beneficial in the long run, tying back to the labor shortage and tighter budgets, too. With a smaller menu:
Fewer ingredients are less costly and less time consuming to source
Back-of-house prep time decreases and fewer staff members are needed
Front-of-house team requires less training
Online ordering and customer-facing automations are easier to calibrate
Equipment inventory, repair, and maintenance become less complex
Another trend of COVID that's here to stay is restaurants shifting off premise. Smaller physical space means lower overhead costs. From incorporating drive-thru, increasing delivery offerings and/or partners (i.e. GrubHub, Seamless), and catering better to takeout, dining options beyond dine-in remain prevalent, despite indoor dining resuming. As FSR Magazine explains, restaurant footprints are not one-size-fits-all; they will continue to vary by concept to maximize revenue and cater to behavioral changes in consumers - social distancing, increased awareness of cleanliness, etc.
To accommodate the aforementioned, restaurant owners must get creative with their assets to remain competitive and profitable. Beyond automation technology, standard equipment and hardware need updates, too. Incorporating no-touch solutions to doors, toilets, and condiment stations, including hand sanitizer dispensers throughout the space, and ensuring high-quality air filtration systems are some examples.
86 Repairs customer, MOVE Systems, is reimagining how mobile food is transported, prepared, and served to help restaurants individualize their footprints throughout their communities. Costing 2-5x less than the traditional food truck and powered by solar energy, MOVE Systems is one of many companies supporting restaurants' off-premise adaptations.
Amidst these stressors and shifts, kitchens must remain compact and efficient - no matter where or how fragmented they are. With changes in hours and off-site options, ghost kitchens have become more popular among restaurateurs.
86 Repairs partner, Kitch, is the world's first true marketplace for commercial kitchens. Kitch allows asset holders to list their kitchens and unlock revenue potential by bringing in outside operators or virtual brands. Conversely, food entrepreneurs with delivery concepts, catering, etc. have access to affordable spaces to unlock their full potential in a flexible marketplace with reduced investment than traditional real estate.
Managing and operating a restaurant at this moment in time is a challenge, to say the least. As a restaurant technology solution, we partner with and support businesses whose missions are to solve the problems our customers simply don't need to be worrying about – like restaurant maintenance and repairs, or finding a space that fits your needs.